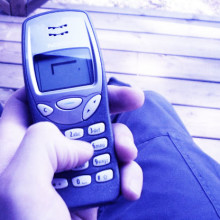 I'm crowdfunding a book
Goal: £3,400
Can you help?
Personal devices before the app store: a decade of tiny games that followed us everywhere.
What do you think of when you remember your first mobile phone? Mine was a Nokia 5110, and my most vivid memories of using it have nothing to do with making phone calls. I spent far more time playing Snake. For much of my teen life, my mind was in two places at once: part of me was stood in the rain waiting for a bus home from school, and part of me was in a confined space with a restless serpent. It kept on growing, and kept on moving, all the while threatening to consume itself if it didn't find some free space to roam.

This book is about the historical meaning of those moments. It is a history of games as personal unfolding labyrinths, co-created in the relationship between humans and technology.
More information: Why part-time distance-learning?